Shortly after writing the following blog post, I learned of all the changes to what can be taken to the Athlete's Village. Much of what runners were able to take to the Athlete's Village is no longer allowed due to increased security as outlined HERE.
I'm sure glad I took the photo below, last year, when I arrived in Boston for the marathon. It is my visual checklist for everything I'll need this year. This will save me a lot of time, and I am really time-crunched at present, which explains the blogless month of February. I have a gala to organize for April 30th, coursework to finish mid-April and a marathon to train for.
To ensure that I had all bases covered for race-day gear, I created a spreadsheet for all possible permuations and combinations of weather conditions. For today, my focus is on the items that you might not have on hand. 
1) I'm feeling quite pleased for having already picked up my waiting-in-Hopkinton camp stool. As I did last year, I bought it at Canadian Tire for $7.99. You'll see many camping chairs on sale along Boylston street. They are not just for spectators but for runners who wish to pass their time in the Athlete's village in greater comfort. I've never found lying on a damp bed of newspapers for a couple of hours to be the best way to get psyched for the run.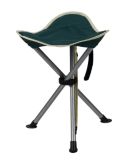 Camp Stool
PRODUCT #76-1557-0
Reg. $7.99
2) While you are picking up a camp stool you can also pick up an emergency rain poncho.
3) The next step is to visit a Value Village Thrift Store or similar and to pick up a cheap windjacket and windpants. Being a small person, I usually find what I need in the boys or girls section. The black Champion windpants and rust coloured windjacket (lined no less) were the results of last year's Value Village outing.
There are baggage trucks enroute to the race corrals to take some of your personal belongings to the finish line. However I never check anything that I would be sorry to lose. And, I always like to have the option of not picking up my bag and going straight back to my hotel in case there is a long line-up. I always try and stay at a hotel within walking distance of the marathon finish line. Last year, the sound of the bomb blast was the decisive factor in not picking up my bag.
Also, it is good to have clothing to wear until minutes before the race start and after you have checked your bag. This is called throwaway clothing. Volunteers come round with bags to collect the throwaway clothing. Imagine the overhead scene as everyone ditches their throwaways.
Yesterday, I ran 30K, which is my last long run before the marathon. My recent long runs have been with my go-to Saturday run group, the Wise Guys (or if we were a team, the Philosoraptors, perhaps). Named so as they are three profs and a statistician. The head wise guy is absent from this photo taken yesterday to commemorate my Boston-training-run milestone. This was taken in a famous Toronto running route, Mt. Pleasant cemetery.
I'll be concentrating on quality miles now and getting more rest in between those faster paced tempo runs and interval workouts. If all goes well with my recovery from the long run I plan to run 3-5 X 1200 with my team, the UTTC Masters tomorrow.
As for my bag-packing goals, I'm aiming to have my bag packed at least 2-3 days before I leave for Boston if not earlier.